Track of the Week 14/20: Alyne – Human Virus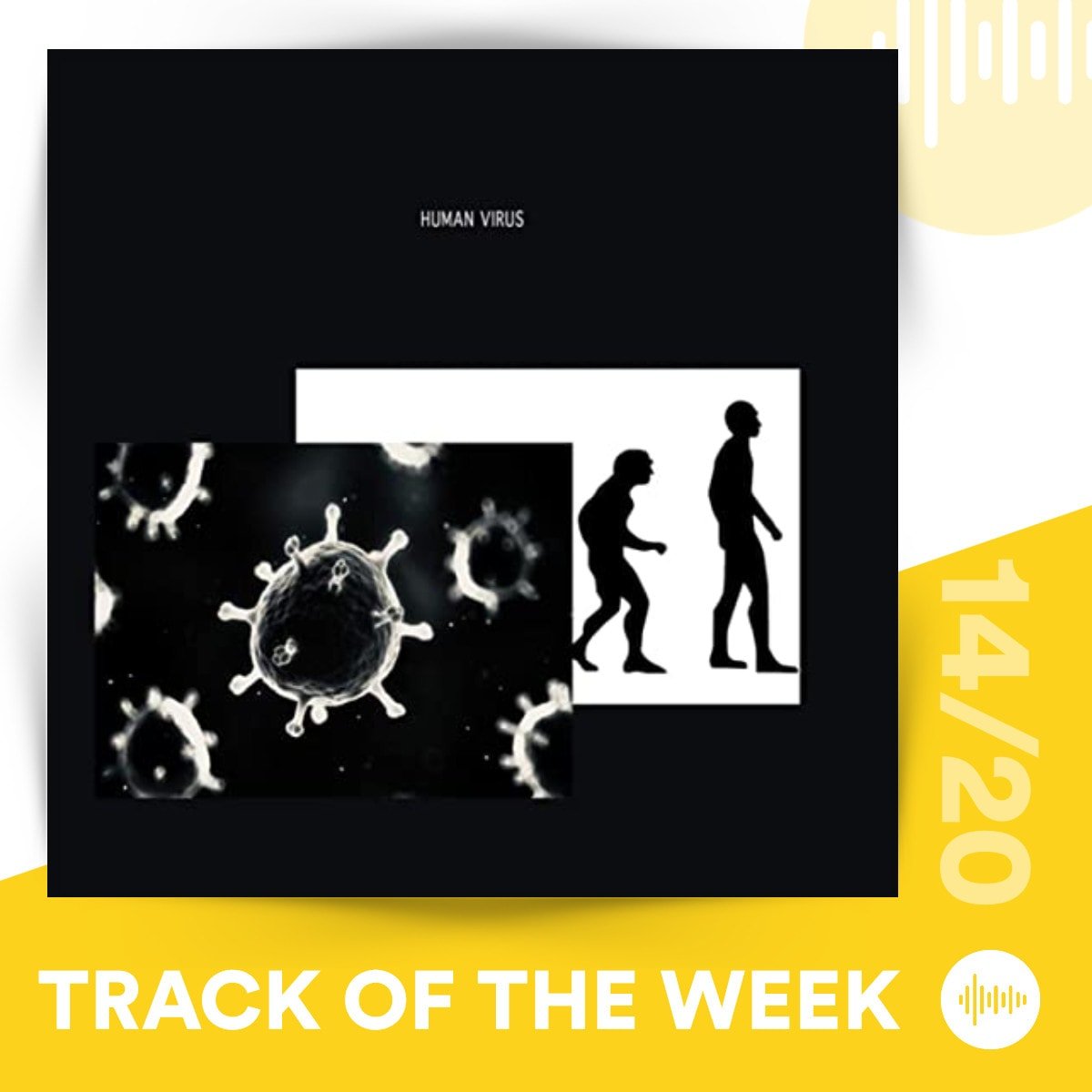 It's fascinating. Sometimes tracks fall into a time when they are interpreted completely different than they were originally intended to be. This is also the case with the Klangspot track of the week.
Alyne – Human Virus
When the track 'Human Virus' was released on Beatport a few days ago, Alyne commented the title of the track on Instagram. Against all suspicion, the track is not related to Corona:
https://www.instagram.com/p/B99qJY4HyYT/
Well, if one looks at the current crisis, a connection can certainly be made. The crisis shows us that the highly developed human race is not invulnerable. But it is also possible (with reservations) to benefit something good from the crisis. In some cases, solidarity between the people is growing. Environment & nature seem to recover even through the standstill. I don't want to go into this topic any further. But I think Alyne hit the bull's eye with this track.
'Human Virus' is part of the eponymic EP, which is the first release on Alyne's own & new label 'Humanoid Music'. Those who expected a club track might be disappointed. Or others like me, might be absolutely fascinated. I know very few tracks over eight minutes long that are so captivating and varied. Piano and gloomy soundscapes at the beginning, the beat starts at more than two minutes. Later follows an acid synth that subtly alternates with the soundscapes. The track tells a story. And Alyne has built it up in an extremely exciting way. Presumably 'Human Virus' will be found in only a few DJ sets due to the structure. But it would be the perfect intro for a set. Or an album. Anyway. This track has been heard – not only in the days of Covid-19.
Listen to 'Human Virus' on the 'Stuttgart Electro Sounds' playlist as well as my personal playlist with all my favourite electro tracks on Spotify:
Save the date: 05/04/2020 18:00 / Alyne & Solee Live Stream
https://www.facebook.com/stuttgartrooftopstreams/posts/120309499605391?__xts__[0]=68.ARCLdjZx0CWujcO1pZakWTVczmqh0ojz1AF9x0nI8eZtcBu7fmSc1SQoT822rmTHtjW5_NJihmzryNkeXL0_xOe3oNziHJ8XYCxMbZlDBGflebcIq0MLxWSc_aZ1fpJ3Qne6_QjzQVRhE6OmbuogUm93OseigQ3p3Uo6c3UlEycBzVrGpX3MjaSpb3whtnv2eU4iPnH2fpg5cZWb_2cBXs4Kf4T9zBJws4hemsFdD6VUlFnlYT5724cBdAyZsFBTMnyaYzOD856FZZKWjhsaAsChiwZg10tDgjAHuvrEq1_ePe7Pi4EpYFoK7IMR01kgXC93yJvop3WUHfRfrPRsiWCx&__tn__=-R
Facebook Event: https://www.facebook.com/events/2900917566629839/
Complete 'Klangspot Mixed Electro Favs' Track List (week 14/2020)
| | | |
| --- | --- | --- |
| 1 | 1.16699016 x 10^-8 hertz | Nils Hoffmann |
| 2 | Once in a Blue Moon | Nils Hoffmann |
| 3 | Human Virus | Alyne |
| 4 | Good Things | Fritz Kalkbrenner |
| 5 | Electric Love | Biesmans |
| 6 | Proper Ecucation – Original Mix | Luca Debonaire |
| 7 | Resurrection – Reinier Zonneveld 2020 Remix | Reinier Zonneveld |
| 8 | Wish Me Luck | Agoria |
| 9 | Gimme Something | Drauf & Dran |
| 10 | The Arctic Voice – RDNK Remix | Oliver Koletzki |
| 11 | Missing You | Camea |
| 12 | Baianá – Extended | Bakermat |
| 13 | Astral Projection | Enrico Sangiuliano |
| 14 | Lieblingsmensch – Edit | Boris Brejcha |
| 15 | Salzburg | Worakls |
| 16 | Just The One | Fritz Kalkbrenner |
| 17 | Call of the Wild | Agoria |
| 18 | Run Run Run – Mollono.Bass Remix | Yeah But No |
| 19 | Keep Moving | Dennis Cruz |
| 20 | Dominator | Kalipo |
| 21 | Threshold to Eternity | Symphonix |
| 22 | Don't Dance | Pretty Pink |
| 23 | Dune Suave | Einmusik |
| 24 | Voice of The Void | Brennen Grey |
| 25 | The Dreamer | Spektre |
| 26 | Mahat | Jan Dalvik |
| 27 | Sky and Sand | Paul Kalkbrenner |
| 28 | Loreley | Kölsch |
| 29 | Top of the World | Chris Willis |
| 30 | Time Machine | Lowis Freeman |
| 31 | It's A Lot | Goom Gum |
| 32 | We Are All Lost | Oliver Koletzki |
| 33 | Phoenix – Unique Repeat Remix | Solee |
| 34 | Together – Acid Rave Version | Camea |
| 35 | Back Home – Original | Anthony Rother |
| 36 | Cowbells & Bitches | Me & My Toothbrush |
| 37 | Starchild – Original Mix | Robert Babicz |
| 38 | Han Jan | Peggy Gou |
| 39 | A6 454 | Pleasurekraft |
| 40 | Styx | Moritz Hofbauer |
| 41 | Far Away | Mark Reeve |
| 42 | Efficiency – Original Mix | Andre Keller |
| 43 | The Sun | Anja Schneider |
| 44 | Clocks – Edit | Mark Tarmonea |
| 45 | Hometown | Nils Hoffmann |
| 46 | Tainted | Einmusik |
| 47 | Leila | Mira (Berlin) |
| 48 | Converter – Original Mix | Andre Keller |
| 49 | Hypnotized | Oliver Koletzki |
| 50 | Aphrodite | Township Rebellion |
| 51 | Wasted So Much Time – N'TO Remix | Wankelmut |
| 52 | You Gotta Believe – Koen Groeneveld Re-Edit | Koen Groeneveld |
| 53 | Acident (Original Mix) | Lowis Freeman |
| 54 | Feed Your Head – Radio Edit | Paul Kalkbrenner |
| 55 | Land Down Under | Chachi |
| 56 | Bleu | Worakls |
| 57 | Zunder | Marek Hemmann |
| 58 | California Dreamin' | Yann Muller |
| 59 | Phenomena | Boston 168 |
| 60 | More | Jan Blomqvist |
| 61 | Can Believe – Nils Hoffmann Remix | Antic |
| 62 | You're Not Alone – Solomun Remix | Agoria |
| 63 | L'éternité – Charlotte De Witte Remix | Regal |
| 64 | Need You | AKA AKA |
| 65 | This Song – Original Club Mix | Mike La Funk |
| 66 | Wes | Fritz Kalkbrenner |
| 67 | Purple Noise | Boris Brejcha |
| 68 | Onyx | Marek Hemmann |
| 69 | Moon Rocks | Enrico Sangiuliano |
| 70 | Time to Lose – Short Version | Joris Delacroix |
| 71 | Reykjavik | Joachim Pastor |
| 72 | Acid Trip | Klanglos |
| 73 | Back Home – Radio Edit | Fritz Kalkbrenner |
| 74 | Verwunschen – Marlon Hoffstadt Remix | Nils Hoffmann |
| 75 | Far Side Of The Moon | Anja Schneider |
| 76 | Purple Clouds | Melokind |
| 77 | Levo | Recondite |
| 78 | Deeply Hooked – Oliver Schories remix | Florian Meindl |
| 79 | Disco Rout – Younger Rebinds Remix 2 | Legowelt |
| 80 | Sunchyme 2K18 | Marc Reason |
| 81 | Blue Story | Tinush |
| 82 | Eternity | Joachim Pastor |
| 83 | Turn Turn Turn | Martin Eyerer |
| 84 | Utopia – Joris Voorn Remix | Digitalism |
| 85 | Sommerliebe | Solee |
| 86 | Walls – Joris Voorn Remix | Yotto |
| 87 | Felina | Lexer |
| 88 | Dissensions – Moritz Hofbauer Remix | Ben Böhmer |
| 89 | Hidden Beauties | ANNA |
| 90 | Born in the 80s | Thomas Lizzara |
| 91 | Part Six | Paul Kalkbrenner |
| 92 | Ry – Edit | Christian Löffler |
| 93 | Psychological Attack | Droplex |
| 94 | Air France | Joris Delacroix |
| 95 | Cloud Rider | Paul Kalkbrenner |
| 96 | Live It | Teho |
| 97 | Open Gates | Daniel Portman |
| 98 | Your Mind | Adam Beyer |
| 99 | Hard Echo | Dense & Pika |
| 100 | I Wanna Go Bang | Bjarki |
| 101 | Walking On Fire – Wankelmut Remix | Rilan & The Bombardiers |
| 102 | Breathing | Ben Böhmer |
| 103 | Toi | Worakls |
| 104 | Sonnentanz | Klangkarussell |
| 105 | Rye | Ben Böhmer |
| 106 | Lila | Rodriguez Jr. |
| 107 | Gravity (feat. Laura Korinth) – Edit | Boris Brejcha |
| 108 | Thicker Than Water | Wankelmut |
| 109 | Oceans of Love | Lstn |
| 110 | Violet | Monika Kruse |
| 111 | Focus Shift | Dallic |
| 112 | Target Line | Rødhåd |
| 113 | Overrated | Pretty Pink |
| 114 | The Wall | Alok |
| 115 | Balloons – Radio Edit | Nils Hoffmann |
| 116 | The Way Back | Solomun |
| 117 | Barfuß auf Wolken – Radio Mix | Klangkuenstler |
| 118 | Apricot | Ron Flatter |
| 119 | Hey Baby! – Original Mix | Jay Frog |
| 120 | Starry Night – Original Mix | Peggy Gou |
| 121 | Waves of 84 | The Swing Bot |
| 122 | Repeat – Original Mix | Regal |
| 123 | Collision Wall | UMEK |
| 124 | In Your Mind | Coloray |
| 125 | Requiem For A Loop – Be Svendsen Remix | Acid Pauli |
| 126 | Bosporus | Nils Hoffmann |
| 127 | Bloodflow | Luca Kallweit |
| 128 | Coeur De La Nuit – Worakls Remix | Ferdinand Dreyssig |
| 129 | Maeva | Joris Delacroix |
| 130 | Strange | Adana Twins |