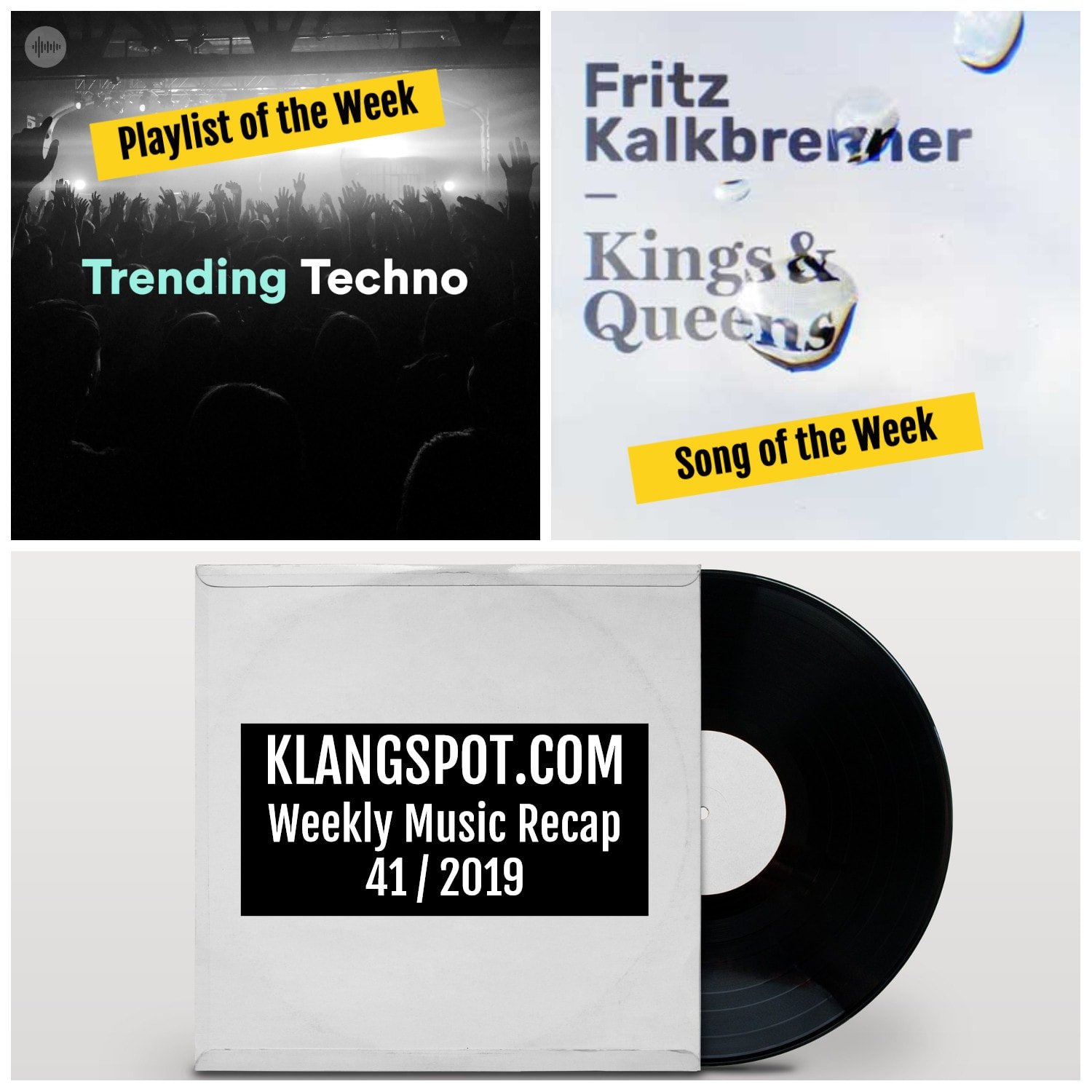 Weekly Music Recap 41/2019: Trending Techno / Fritz Kalkbrenner – 'Kings & Queens'
October 11, 2019
Weekly Music Recap 43/19: Fritz Kalkbrenner – Kings & Queens (Ruede Hagelstein's From The Other Side Of Town Remix)
October 27, 2019
There's a little change this week. The focus of the Weekly Music Recap will be the song of the week and automatically the playlist it is on.
Song of the Week: Nils Frahm – 'To Thomas'
Nils Frahm… the idol of so many composers & producers who seek their fortune in the wide classical, study and relaxation music genre. How many hours have I spent copying his sound until Nils, in collaboration with Native Instruments, finally released me with 'Noire' for Kontakt. But I don't want to call myself in the same breath as him. That would be blasphemy.
Nils Frahm's music emanates a magic that is hard to resist. He has redefined piano music. It was his joy in experimenting and his sound that opened up classical music to people who would otherwise reject this genre. He made noises socially acceptable and a stylistic element. The same is the case with the song 'To Thomas', which can be found on 'All Encores' on the latest release. Originally the song appeared on the album 'Encores 1' last year. In my opinion the song can be heard in the background to relax or very consciously. You don't dare to breathe in order not to run the risk of missing a sound or an elementary noise. You can hear the song on my playlist 'Relaxing Piano Gems'.
Before the tracklist follows the playlist, there is a video here. Even more interesting than the music of Nils Frahm is watching him perform:
Nils Frahm Boiler Room x Dimensions Opening Concert Live Set
Complete 'Relaxing Piano Gems' Track List (this week)
| | | |
| --- | --- | --- |
| 1 | Thinking About You – Piano Version | Kristoffer Wallin |
| 2 | To Thomas | Nils Frahm |
| 3 | Remember That Day | Milo Edale |
| 4 | In Autumn | Zazenkai |
| 5 | It's Good in Your Arms | Thomas Lemmer |
| 6 | Olyan szép vagy | Csizmazia Etel |
| 7 | White Clouds | Sophie Weber |
| 8 | Parisian Waltz | Scott Fisher |
| 9 | Sleeping like the Birchwood | Rand Aldo |
| 10 | Beautiful Remains | Pietra |
| 11 | Eden | Jake Warren |
| 12 | Kiku Rain | Cora Zea |
| 13 | Longing for Shore | Languor State |
| 14 | Cicisbeo | Minik Jakobsen |
| 15 | Summer in Silence | R. Strachan |
| 16 | Just a Simple Song | David M. Edwards |
| 17 | Summer | SØLYS |
| 18 | Verde | Milana Zilnik |
| 19 | Ascent | bzur |
| 20 | Morning Mellows Memory | Rich Batsford |
| 21 | Transformation | Merel Huisink |
| 22 | Sleeping Beauty | CrusaderBeach |
| 23 | Mirage | Aymen Gannouni |
| 24 | Ephemeral (Postcards I) | Kevin Kerrigan |
| 25 | Architectures | Marcel Heah |
| 26 | Descent | Tommi Salomaa |
| 27 | Amungen | Harry Bergqvist |
| 28 | Closer Still | Leonard Miller |
| 29 | Doubts | Renato Luigi |
| 30 | Solar Cooling | MettaForm |
| 31 | In my Head | Fredrik Göte |
| 32 | Helena's Nocturne | Fencer |
| 33 | Preludes, Op. 9, No. 10: Cantabile | Theodor Kirchner |
| 34 | Un autre monde | Vivian Roost |
| 35 | Soleil du Soir | Leon Noel |
| 36 | My Peace | Layla Frost |
| 37 | Gravity (feat. Laura Korinth) – Nick Schwenderling Piano Edit | Boris Brejcha |
| 38 | Christian's Workshop | Heidi Breyer |
| 39 | Vocalise, Op. 34, No. 14 (Arr. Trifonov for Piano) | Sergei Rachmaninoff |
| 40 | Reflection | Anna Sofia Nord |
| 41 | New Day Celebration | Louis Landon |
| 42 | Alabaster | Arden Forest |
| 43 | Alla luna | Lorenzo Tempesti |
| 44 | Sentimental Poetry | Arthur Byron |
| 45 | Origami | Berlioz |
| 46 | Separation | Emilie Levienaise-Farrouch |
| 47 | Pandora's Box | George Readin Jr. |
| 48 | Raplapla | Brique a Braq |
| 49 | Don't Stop Dreaming – Piano @432Hz | Kirsten Hanne |
| 50 | Hope | Martin Tingvall |
| 51 | Sunset River Cruise | Lenz Koch |
| 52 | Echoing Canyon (Solo Piano) | Karen Biehl |
| 53 | We Will Last | Shai-li Paldi |
| 54 | Linden | 8th Floor Wide |
| 55 | Been Waiting – Piano Version | INST |
| 56 | Lieder ohne Worte, Book 1, Op. 19b (Excerpts): No. 2 in A Minor, MWV U 80 | Felix Mendelssohn |
| 57 | Out of Pain, Comes Beauty | David Nevue |
| 58 | Apart | Aki Malmström |
| 59 | Nucleus | Ivy Rue |
| 60 | Tides of Time | Robert Bruce |
| 61 | Into the Distance | Michele Nobler |
| 62 | Piano Composition No. 6 | Michael X. Piano |
| 63 | Cooper's Song | Stephen Wallack |
| 64 | Day in Paris | Basil Wahn |
| 65 | Ojalá | Lionel Scardino |
| 66 | Listen to the Sweet Song of the River | Casey Crosby |
| 67 | Lovely – Acoustic Cover | Milli Davis |
| 68 | Into Resonance | Steven Vrancken |
| 69 | You | Kyle McEvoy |
| 70 | Movement I: Mountains | Dan Rufolo |
| 71 | Sleep Song | John Hayes |
| 72 | Distant Dream | Ludwig Störholt |
| 73 | Touch | Matthew Mayer |
| 74 | Opus 23 | Josh McCausland |
| 75 | Ascent – Day 1 | Ludovico Einaudi |
| 76 | Under My Oak Tree | Johannes Bornlöf |
| 77 | Lazaro (Solo Piano Version) | Francesco Tristano |
| 78 | Just People | Jonny Southard |
| 79 | Les Chevaux | Matt van Stern |
| 80 | Gnossienne no. 1 | Hans Sjögren |
| 81 | Fly Me To The Moon | Bruce Douglas |
| 82 | Listen | Robert Gafforelli |
| 83 | Purple Dreams | Figaro Castello |
| 84 | Memories | Magnus Murel |
| 85 | The Way We Were | Lynn Yew Evers |
| 86 | Longing | Carol Comune |
| 87 | Near and Far | The Tides |
| 88 | Il Reste Du Temps | Lo Mimieux |
| 89 | In My Mind | Romans Veiss |
| 90 | Yoyo | Manuel Zito |
| 91 | This Beautiful Place | Vincent Boot |
| 92 | Arvika – Solo Piano | Sleepy Songs |
| 93 | SAD! | Ashton Foster |
| 94 | Hakone | Edo Vibes |
| 95 | Brave For You | Nicole Sinman |
| 96 | If This Is the Time | Gary Schmidt |
| 97 | Kinderszenen, Op. 15: No. 7 in F Major. Träumerei | Robert Schumann |
| 98 | My Starry Sky | Daniele Meneghello |
| 99 | Reminiscence | William Haviland |
| 100 | Shooting Stars | Shoshana Michel |
| 101 | Warps | Koral Banko |
| 102 | Havana | Mary Lou Stephens |
| 103 | 13 | Arelius |
| 104 | John's River | Charles Bolt |
| 105 | Doll | Bruno Sanfilippo |
| 106 | Light On | Hans Overgraard |
| 107 | Moments | Phaeleh |
| 108 | Somewhere | Andri Odegard |
| 109 | An Outsider | GÅEL |
| 110 | Not Forgotten | Lucy Vincent |
| 111 | Holding on to Forever | Goratie |
| 112 | Love Yourself | Anthony Gallway |
| 113 | Leave Me | Dimitri Stöckl |
| 114 | Willow Song | David Galtszyk |
| 115 | Fantasazing | Agatha Reilly |
| 116 | The Book of Jen | Tedosio |
| 117 | Lanterns | Hushed |
| 118 | Palantir | Jorge Segovia |
| 119 | Tallis One | Samuel Lindon |
| 120 | The River in Between | Luca Mazzillo |
| 121 | Worried Sky | Jean Petri |
| 122 | Spring Morning (Scaled Down Version) | Peter Sandberg |
| 123 | The Ocean | Jackson Love |
| 124 | You, Me – Both | Jonatan Mollberg |
| 125 | Simplicity | Daniel Paterok |
| 126 | Alone in the Crowd | Ian Wong |
| 127 | Petite Partie | Firestore |
| 128 | Faded Dreams | Aaron Lansing |
| 129 | At Last (Scaled Down Version) | Martin Landh |
| 130 | Speck of Dust | Fellows |
| 131 | Avril 14th | Aphex Twin |
| 132 | By the Deep Sea | Federico Albanese |
| 133 | Last Breath | Izumi Tanaka |
| 134 | Skyshards | Amanda Mancini |
| 135 | Man In The Moon | Wilma Harrods |
| 136 | Rasung Consciousness | Arlen Ness |
| 137 | Flora | Juan Maria Solare |
| 138 | Changing Winds | Alexandra Streliski |
| 139 | A Bird in the Box | Jenna Donnais – Marc |
| 140 | 幸せな誕生日ユカ | Plïnkï Plønkï |
| 141 | Unsustained | Piotr Wiese |
| 142 | Hurts – Healing I | Gian Marco Castro |
| 143 | Fly | Javi Lobe |
| 144 | Posthumous | Insignificant Others |
| 145 | A Time of Wonder | Alexis Ffrench |
| 146 | Land of Forgotten Dreams | Lynn Tredeau |
| 147 | Travelling | James Spiteri |
| 148 | Trieste | Julius Aston |
| 149 | Sunday Stroll | Benny Treskow |
| 150 | Fjordaron | David Pickering Pick |
| 151 | Song for A | Charlie Key |
| 152 | Alba | Carly Reese |
| 153 | Stillness Speaks | Yuki Sakura |
| 154 | Norrsken | Karin Borg |
| 155 | Room for One More | Jesse Brown |
| 156 | Spirit | Dirk Maassen |
| 157 | Images, Set II, L. 111: I. Cloches à travers les feuilles | Lydia Maria Bader |
| 158 | Sleeping Piano | Vincent Corver |
| 159 | Luminous | Rachel LaFond |
| 160 | Nostalgia | Nay Shalom |
| 161 | Awakening | Martin Stock |
| 162 | Sweetness of Life | Jacopo Croci |
| 163 | Looking Back | Laurence Ipsum |
| 164 | 4U | Tomas Grut |
| 165 | Shelter | Simeon Walker |
| 166 | Drift | Sequoia |
| 167 | South Pointe | Lummus Park |
| 168 | No One's Gonna Love You | Judson Hurd |
| 169 | David Melrose Theme | Hauschka |
| 170 | Overnight | Chilly Gonzales |
| 171 | Moonbeams | Greg Barley |
| 172 | Hymn – Piano Version | Luke Howard |
| 173 | Reseda | Hautefort |
| 174 | Leaves | Hermann |
| 175 | Something To Remember – Piano Score | Haux |
| 176 | Campground Stargazing | Isaac Shepard |
| 177 | The Theory Of Everything Theme | Music Lab Collective |
| 178 | Quiet Resource | Evelyn Stein |
| 179 | Sea Mist | Mbo Mentho |
| 180 | Room 101 | Igor Longhi |
| 181 | Les Nouveaux Riches | Ossie Woods |
| 182 | Song for Gavin | Olivia Belli |
| 183 | Where's My Love – Piano Solo | SYML |
| 184 | MHope | James Heather |
| 185 | Chime | Balmorhea |
| 186 | Keeper | Ben Laver |
| 187 | Autumn Casts Its Spell | Ita Composer |
| 188 | Threnody | Goldmund |
| 189 | The Music in My Heart I Bore | Chad Lawson |
| 190 | Water Ripples | Enno Aare |
| 191 | Footsteps | Léonie Deval |
| 192 | At Night | Oscar Sundberg |
| 193 | Six Etudes for Piano – q = 96 | Philip Glass |
| 194 | 20:17 | Ólafur Arnalds |
| 195 | Début | Mélanie Laurent |
| 196 | You Build Me Up | Philippe Sanderos |
| 197 | In the East | Peaceful Piano |
| 198 | Someone to Watch Over Me | Charlotte Benton |
| 199 | Georgia On My Mind | Sonny Beckerlee |
| 200 | Luna From Soyuz | Tomasz Kraal |
| 201 | Beauty And The Beast | Alan Menken |
| 202 | 7 Years | Christopher Steven Brown |
| 203 | The City and the Stars – Reimagined | Neil Cowley Trio |
| 204 | Stitches | Molotov Cocktail Piano |
| 205 | Awakening | Otto Wahl |
| 206 | The Watchtower | Sigimund |
| 207 | Devil In Disguise | Gabriel Parker |
| 208 | Comptine d'un autre été, l'après-midi | Yann Tiersen |
| 209 | I Will Always Love You | Dolly Parton |
| 210 | My Heart Will Go On (Rose's Theme) [From "Titanic"] | Pianoramix |
| 211 | Vladimir's Blues | Max Richter |
| 212 | Die Nonne | Paul Cantelon |
| 213 | Pinô | Otto Totland |
| 214 | Kiss The Rain – Original | Yiruma |
| 215 | Breathe | Greg Maroney |
| 216 | Clair de Lune | Claude Debussy |
| 217 | The Approaching Night | Philip Wesley |
| 218 | Eleanoras Träume | Oskar Schuster |
| 219 | For You – Piano Arrangement | Costantino Carrara |
| 220 | Finesse | Piano Dreamers |
| 221 | Miette | Dominique Charpentier |
| 222 | Flakes unwatched and improvised | Garreth Broke |
| 223 | One Summer's Day (Ano Natsu e) – Spirited Away | daigoro789 |
| 224 | Joseph's First Prayer | Paul Cardall |
| 225 | Cloudy Skies | Ian Bloom |
| 226 | Bells In The Wind | Bud Hollister |
| 227 | Ab Ovo | Joep Beving |
| 228 | Ti Amore | Minea Laurent |
| 229 | Tenderly | The O'Neill Brothers Group |
| 230 | La soledad de Alberto | Mario Viñuela |
| 231 | Gianni Schicchi: O mio babbino caro (Arr. Yvar Mikhashoff) | Giacomo Puccini |
| 232 | Solitude | Johann O:son Braa |
| 233 | Falling, Catching | Agnes Obel |
| 234 | Molly's Lullaby | Ferdinand Snow |
| 235 | Gnossienne: No. 1 | Erik Satie |
| 236 | Solo | Andy Gbormittah |
| 237 | Footprints | Maree Docia |
| 238 | Hayden's Spirit | Danny Wright |
| 239 | Summertime | Stockholm Jazz Quartet |
| 240 | Berceuse In D Flat, Op.57 | Frédéric Chopin |
| 241 | For Stormboy | Rhiannon Bannenberg |
| 242 | Romances | Amity Cadet |
| 243 | Portrait of a Ghost | Justin Bays |
| 244 | For they who had to go I | Klangriket |
| 245 | Comptine D'un Autre Été, L'après-Midi – Amelie Movie Theme | Jonas Kvarnström |
| 246 | Marinette | Giuseppe Galvetti |
| 247 | Drifting Among Strangers | Gavin Luke |
| 248 | Moon River | Jessica Sinclair |
| 249 | Spring Day | Smyang Piano |
| 250 | Questions | Cinthya Garcia |