Weekly Music Recap 07/20: Felix Raphael & Yannek Maunz – Certain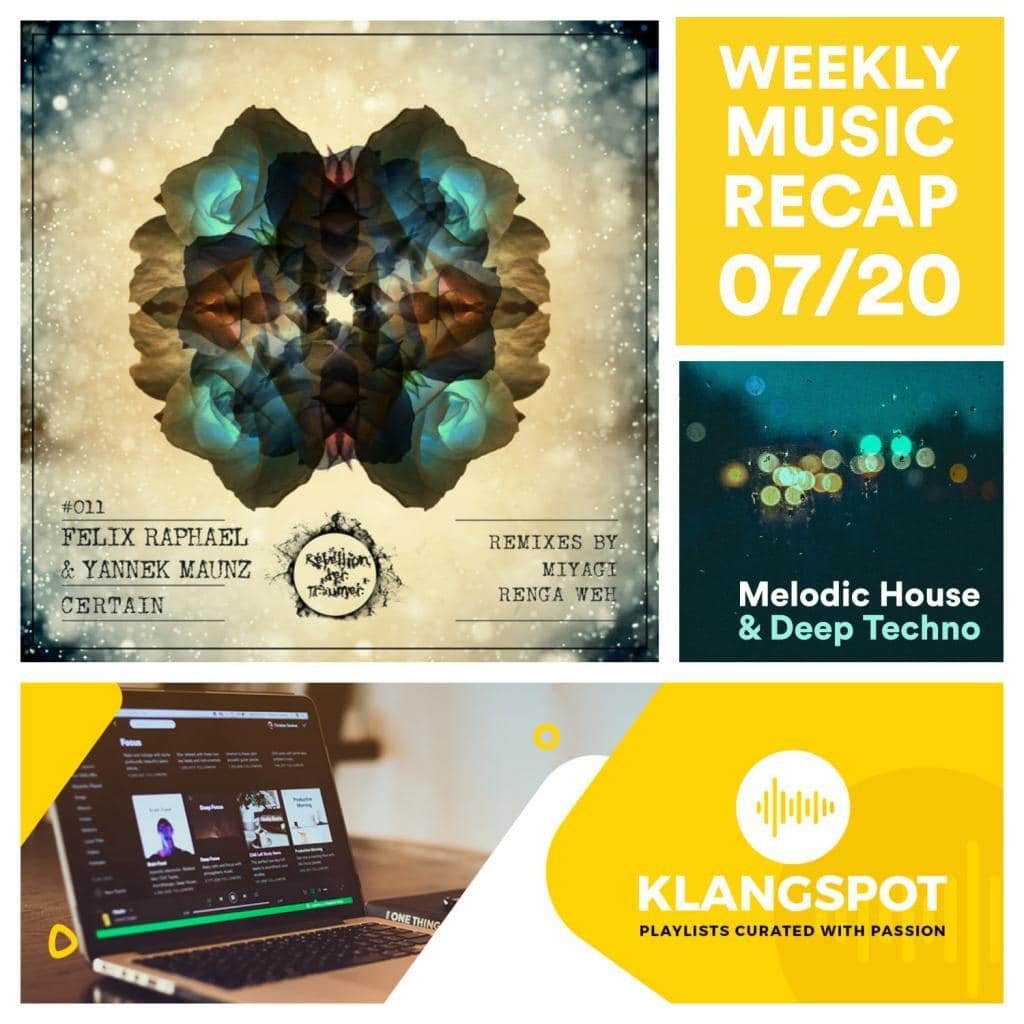 The truth is on our ears. Sometimes it takes a pair of good headphones for a track to finally impress me. And what else is to tell about the last week?
Song of the week: Felix Raphael & Yannek Maunz – Certain
For practical reasons I do not work with speakers. I don't have the space for it and curating the playlists is not very exciting for my family either. In short: I'm a big fan of headphones. And this week seems to have paid off once again. 'Certain' is a fantastic track. But I don't think I would have chosen it as song of the week while listening to it using speakers. To take another short excursion: I' m not really interested in lyrics. Most of the time I can't tell you what a track is about. A track has to convince me musically and in terms of the sound.
Felix Raphael & Yannek Maunz have fully achieved this with 'Certain'. I think you have to listen to this track very consciously, close to your ears and without distraction. Then it blows you away. The depth staggering with different reverb settings for all elements including the vocals is awesome. Also the spreading of the individual sounds in the stereo panorama. Another highlight are the percussions. I guess partly (or mostly?) produced from organic sounds, you will discover them completely only after listening to the track several times.
The track is an absolute highlight and can be found on the 'Melodic House & Deep Techno' Spotify playlist. The other new tracks are Kidnap & Leo Stannard – Moments (Ben Böhmer & Nils Hoffmann Remix), Eli & Fur – High West, Age Is a Box – High Maintenance (Stil & Bense Remix), Mathame – For Every Forever, shahin & Leiuna – Paradigm, Carsten Halm – Show You How to Love, Kevin Saunderson & e-Dancer & Virus J – Oombah (THEMBA's Herd Remix), Vlad Jet – Velvet (Cross & Avocado Remix), Claudio Ricci & Jinadu – Above My Head, Maximalism – I See You (SLP Remix), FiveP & Eleonora – Away.

Mark Tarmonea, Yannek Maunz, Felix Raphael – Same (Mononoid Remix)
I discovered this video while searching for an official video for 'Certain'. It's only partly related to the song of the week, but I don't want to withhold it from you. Last year Yannek Maunz or Yannek Maunz and Felix Raphael released some tracks together with Mark Tarmonea, an artist I also appreciate a lot. One of these tracks was remixed by Mononoid, for which a nice video was produced. Check it out, highly recommended.
Mark Tarmonea, Yannek Maunz, Felix Raphael - Same (Mononoid Remix) [Eye And Eye]
Complete 'Melodic House & Deep Techno' Track List (week 07/2020)
| | | |
| --- | --- | --- |
| 1 | Moments – Ben Böhmer & Nils Hoffmann Remix | Kidnap |
| 2 | Certain | Felix Raphael |
| 3 | Till We Fall | Rafael Cerato |
| 4 | High West | Eli & Fur |
| 5 | Black Hole – Extended Mix | Ben Böhmer |
| 6 | Ayahuasca – Extended Mix | Wankelmut |
| 7 | No Regrets (The Friend, Pt. 2) – Dubfire Remix | Chris Liebing |
| 8 | High Maintenance – Stil & Bense Remix | Age Is a Box |
| 9 | For Every Forever | Mathame |
| 10 | To The Moon And Back | Boris Brejcha |
| 11 | Loverboy – Catz 'n Dogz Remix | Steve Bug |
| 12 | Paradigm | Shahin |
| 13 | Faceless Fears – Extended Mix | Felix Kröcher |
| 14 | Show You How to Love | Carsten Halm |
| 15 | Oombah – THEMBA's Herd Remix | Kevin Saunderson |
| 16 | Shout | Qplex |
| 17 | Surrender | Marius Drescher |
| 18 | Masada | Marcus Meinhardt |
| 19 | Road | Lane 8 |
| 20 | Velvet – Cross & Avocado Remix | Vlad Jet |
| 21 | Let Me Sing – Original Mix | Animal Trainer |
| 22 | Kings & Queens | Fritz Kalkbrenner |
| 23 | Missing You | Camea |
| 24 | Call Me Wrong | Francesca Lombardo |
| 25 | Above My Head | Claudio Ricci |
| 26 | See the light – Radio Edit | Betoko |
| 27 | I See You – SLP Remix | Maximalism |
| 28 | Belive | Rich Vom Dorf |
| 29 | Atlantic Beam | Booka Shade |
| 30 | Away | FiveP |
| 31 | Midnight (The Hanging Tree) | HOSH |
| 32 | Don't Dance | Pretty Pink |
| 33 | All I Need | Kick Bong |
| 34 | Pole | Philipp Wolf |
| 35 | Wake Me Up | Cubicolor |
| 36 | Black | Mark Hoffen |
| 37 | Molero | Oliver Schories |
| 38 | Never Enough – Alltag Remix | CARSTN |
| 39 | We Are All Lost | Oliver Koletzki |
| 40 | Got Mine | Stylo |
| 41 | Outline | Philipp Kempnich |
| 42 | lóme | Anatolian Sessions |
| 43 | In My Mind | UOAK |
| 44 | Alone | Julian Wassermann |
| 45 | Coming | Maxim Lany |
| 46 | Different – Radio Edit | Alex Breitling |
| 47 | Patience – Mees Salomé Remix | Seth Schwarz |
| 48 | You're Not Alone – Solomun Remix | Agoria |
| 49 | Mutant Magic | Maceo Plex |
| 50 | Reminiscence | Dayne S |
| 51 | Move to the Vibe | Ron Flatter |
| 52 | United Forever – Hessian Remix | Nico Brey |
| 53 | Wherever You Are – Extended Mix | Nils Hoffmann |
| 54 | Serendipity – Niconé & Dirty Doering Remix | Roderic |
| 55 | Chimera | Mashk |
| 56 | Keep Dreamin' | Mount Mike |
| 57 | Broken Dreams – Tocadisco Remix | Tom Novy |
| 58 | In Our Hands – Radio Edit | Green Lake Project |
| 59 | Away From Heaven | Bondi |
| 60 | I Am Not | Romulus |
| 61 | Terminator – Extended Mix | Kydus |
| 62 | Break The Chains | PaulWetz |
| 63 | Pull Revisited | Mark Tarmonea |
| 64 | Existence | Moritz Hofbauer |
| 65 | Warbler – Rodriguez Jr. Remix | Atish |
| 66 | Nebulae | Brian Cid |
| 67 | Miss You – Erly Tepshi Version | Erly Tepshi |
| 68 | What's It Gonna Be | El Mundo |
| 69 | High Scheherazade – Original Mix | Timujin |
| 70 | Million Faces | Carlo Whale |
| 71 | Closer | ARTBAT |
| 72 | Feel Good | Aniello Guerra |
| 73 | Der Gärtner | Microtrauma |
| 74 | I Don't Feel Anything | Armonica |
| 75 | The Secret of Eos | Fideles |
| 76 | Alteration | Bookwood |
| 77 | Oh My Love | Tobias Bergson |
| 78 | Mama Africa – Mollono.Bass Remix | Stereo Express |
| 79 | Pressured Mind | Whitesquare |
| 80 | Kevin Incredible | AKA AKA |
| 81 | Behind the Fog – Morttagua Director's Cut Mix | Eleonora |
| 82 | Moonbeam | Rauschhaus |
| 83 | Elessar | Moonwalk |
| 84 | It's A Lot | Goom Gum |
| 85 | Mystery – Tale Of Us & Mathame Remix | Adriatique |
| 86 | Clay | Marek Hemmann |
| 87 | Revolution #4 – Original Mix | Tube & Berger |
| 88 | Chicken Curry – Ruede Hagelstein Hospital Curry Remix (Mixed) | Britta Arnold |
| 89 | Rhy | Tim Engelhardt |
| 90 | When We Were Younger – Extended Version | Jonas Gewald |
Podcast Bassgeflüster
What especially for German Techno & House fans might be interesting, is the Bassgeflüster podcast. The podcast is very different from others of the same genre cause they not only provides DJ sets, but especially short interviews of interesting artists. I hadn't really been into podcasting that much before. But the guys from Bassgeflüster might have changed that. Thanks a lot for that 😉