Weekly Music Recap 03/20: Camea – Missing You (Melodic House & Deep Techno)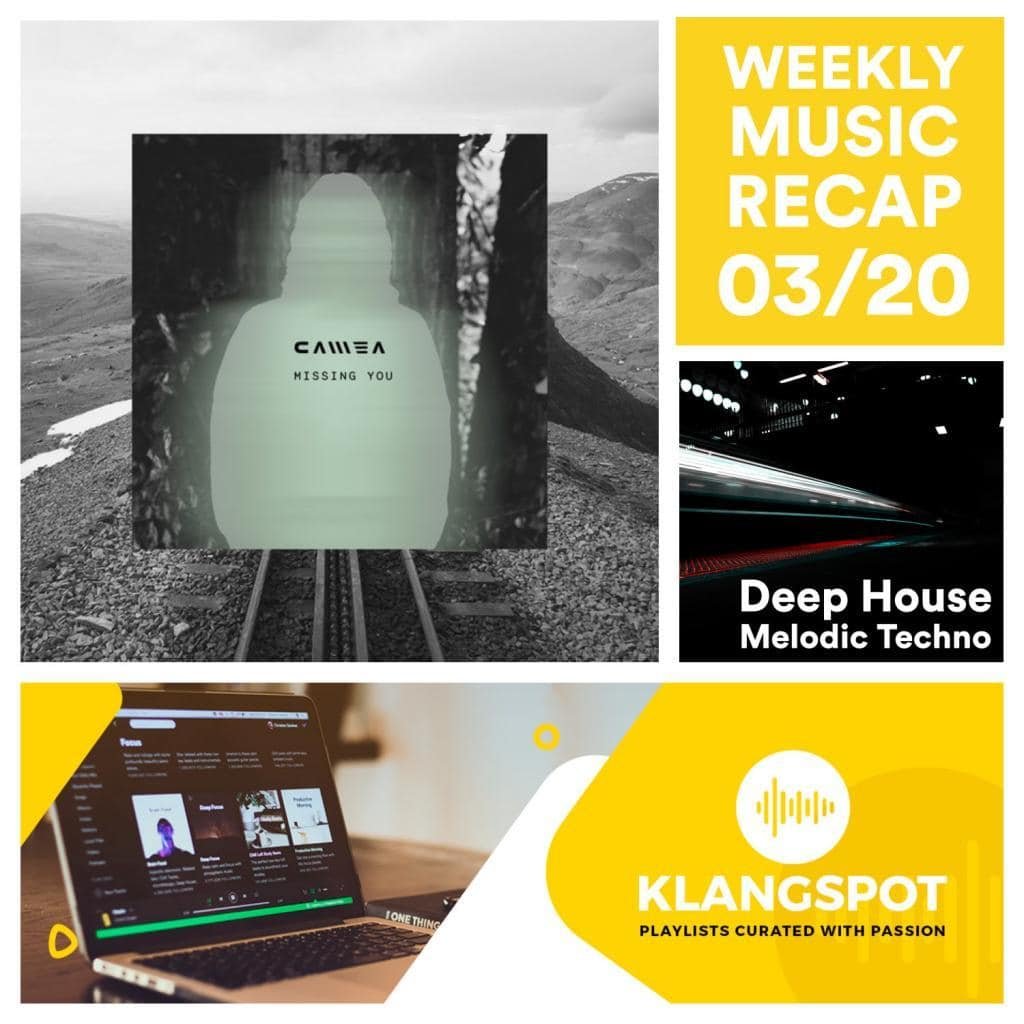 I'm sorry, but I have to nominate 'Deep House & Melodic Techno' again as playlist of the week. Because it would be a shame to ignore 'Missing You' by Camea.
Camea – Missing You
If you follow me on Instagram, you surely know my 'Radar Picks'. Friday morning at breakfast I listen to my Spotify 'Release Radar' and spontaneously choose three tracks I like. I don't know how the Spotify algorithm works and I haven't know or followed Camea before, but this time I'm really happy about the apparent randomness of how Spotify compiles the recommendations. I listen to the Release Radar through a JBL Charge 4. Nevertheless the track stuck in my ear. Fascinating when you consider that it consists of just two chords and I didn't hear any details. Probably it was the actually minimalistic rhythm, but also complex (is that possible?). The track fascinated me immediately.
When I update the playlists, I listen to the Release Radar again – with higher quality gear (mostly headphones). My first impression was confirmed. How can a track sounds so minimalistic and complex at the same time? There must have been someone at work who knows his job. But not only the arrangement (in the sense of setting the notes and percussion sounds in the right place) is fantastic, also the sound. This single and lonely hihat stands so present and yet unobtrusive in its own space. It's amazing how mixing can shape the character of a track.
I could keep dissecting the track, but who benefits? Grab a good pair of headphones, play the track and close your eyes. Then you know why I'm so enthusiastic. I'm sure Camea won't be the last time on my playlists. 'Missing You' is a single release for Camea's debut album. I'm looking forward to it!
'Missing You' is part of the 'Melodic House & Deep Techno' Spotify playlist. I also put the track on my personal playlist. Thanks a lot for the great music!
CAMEA techno set in The Lab LA (Mixmag 2018)
CAMEA techno set in The Lab LA
Complete 'Deep House & Melodic Techno' Track List (this week)
| | | |
| --- | --- | --- |
| 1 | Black Hole – Gui Boratto Rework | Ben Böhmer |
| 2 | Road | Lane 8 |
| 3 | Kings & Queens | Fritz Kalkbrenner |
| 4 | Missing You | Camea |
| 5 | To The Moon And Back – Edit | Boris Brejcha |
| 6 | Midnight (The Hanging Tree) | HOSH |
| 7 | Don't Dance | Pretty Pink |
| 8 | Molero | Oliver Schories |
| 9 | Never Enough – Alltag Remix | CARSTN |
| 10 | We Are All Lost | Oliver Koletzki |
| 11 | Mikado | Rafael Cerato |
| 12 | lóme | Anatolian Sessions |
| 13 | Movve – Radio Edit | Betoko |
| 14 | Time to Change | Rich Vom Dorf |
| 15 | In My Mind | UOAK |
| 16 | Alone | Julian Wassermann |
| 17 | Coming | Maxim Lany |
| 18 | Different – Radio Edit | Alex Breitling |
| 19 | Patience – Mees Salomé Remix | Seth Schwarz |
| 20 | You're Not Alone – Solomun Remix | Agoria |
| 21 | Mutant Magic | Maceo Plex |
| 22 | Reminiscence | Dayne S |
| 23 | Move to the Vibe | Ron Flatter |
| 24 | United Forever – Hessian Remix | Nico Brey |
| 25 | Serendipity – Niconé & Dirty Doering Remix | Roderic |
| 26 | Chimera | Mashk |
| 27 | Keep Dreamin' | Mount Mike |
| 28 | Broken Dreams – Tocadisco Remix | Tom Novy |
| 29 | In Our Hands – Radio Edit | Green Lake Project |
| 30 | Away From Heaven | Bondi |
| 31 | I Am Not | Romulus |
| 32 | Terminator – Extended Mix | Kydus |
| 33 | Break The Chains | PaulWetz |
| 34 | Pull Revisited | Mark Tarmonea |
| 35 | Existence | Moritz Hofbauer |
| 36 | Warbler – Rodriguez Jr. Remix | Atish |
| 37 | Nebulae | Brian Cid |
| 38 | Miss You – Erly Tepshi Version | Erly Tepshi |
| 39 | What's It Gonna Be | El Mundo |
| 40 | High Scheherazade – Original Mix | Timujin |
| 41 | Million Faces | Carlo Whale |
| 42 | Closer | ARTBAT |
| 43 | Feel Good | Aniello Guerra |
| 44 | Petra | Animal Trainer |
| 45 | Der Gärtner | Microtrauma |
| 46 | Get Yourself | CAITLIN |
| 47 | I Don't Feel Anything | Armonica |
| 48 | The Secret of Eos | Fideles |
| 49 | Alteration | Bookwood |
| 50 | Oh My Love | Tobias Bergson |
| 51 | Mama Africa – Mollono.Bass Remix | Stereo Express |
| 52 | Pressured Mind | Whitesquare |
| 53 | Kevin Incredible | AKA AKA |
| 54 | Behind the Fog – Morttagua Director's Cut Mix | Eleonora |
| 55 | Moonbeam | Rauschhaus |
| 56 | Plastic Head TV | Fairmont |
| 57 | Elessar | Moonwalk |
| 58 | It's A Lot | Goom Gum |
| 59 | Mystery – Tale Of Us & Mathame Remix | Adriatique |
| 60 | Clay | Marek Hemmann |
| 61 | Wherever You Are – Extended Mix | Nils Hoffmann |
| 62 | Home – Chus & Ceballos Remix | Rafael Cerato |
| 63 | Revolution #4 – Original Mix | Tube & Berger |
| 64 | Softly – Original Mix | Nohan |
| 65 | Mabi | Modd |
| 66 | You Shine – Original mix | Giorgia Angiuli |
| 67 | Devi | Wassu |
| 68 | Feel Good | Moonbootica |
| 69 | Merkabah | Dizharmonia |
| 70 | Mirabella – Avoure Remix | Loocalooma |
| 71 | Chicken Curry – Ruede Hagelstein Hospital Curry Remix (Mixed) | Britta Arnold |
| 72 | Rhy | Tim Engelhardt |
| 73 | When We Were Younger – Extended Version | Jonas Gewald |
| 74 | Sun Dance | Mollono.Bass |
| 75 | Can Believe – Nils Hoffmann Remix | Antic |
| 76 | Night Blooming Jasmine – Rodriguez Jr. Remix Edit | Eli & Fur |
| 77 | Heal Me | Rodriguez Jr. |
| 78 | 2daBeat | Super Flu |
| 79 | Perfect Fit | Niko Schwind |
| 80 | All Time Love – Radio Edit | Oscar House |
| 81 | Sirens – Live @ Burning Man | Monolink |